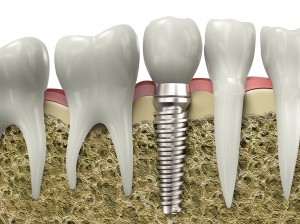 Dental implants are a permanent, natural-looking solution for restoring a smile that has one or more missing teeth. If tooth loss is making eating your favorite food difficult, or speaking or sharing your smile embarrassing, dental implants provide the solution. While dentures are an effective option, they can often feel bulky and slip out. Dental implants are surgically placed into the jawbone, which means they'll never slip or feel uncomfortable. In fact, they'll feel and look just like your natural teeth!
During the dental implants procedure, Dr. Kim will surgically place the small anchor into your jawbone while you are under anesthesia. Your implant will then need to heal, allowing the anchor to fuse with your jawbone and act as an artificial tooth root. The healing period typically takes a few months to complete, and is an integral part of the procedure. When your implant has healed, it will be able to support your replacement tooth. Your dental implants will last you a lifetime with proper care.
While dental implants will enhance the look of your smile, they will also restore your oral health as well. Gaps caused by missing teeth can result in bone loss in the jaw, deteriorating the facial structure and create a sagging, aged look. Dental implants preserve bone in the jaw to keep your smile and face looking natural.
Enjoy a healthy, beautiful, and functional smile with dental implants. No more diet restrictions, uncomfortable dentures, or feeling self-conscious. Call us today to schedule a consultation and get started on your new smile!
---